Wild & Scenic welcomes Tommy Caldwell, Jeremy Jones, and Tamo Campos
"Our long-time National Partner, CLIF BAR, has pulled together a stellar CLIF Athlete Speaker Series for the 2019 Wild & Scenic Film Festival. We are thrilled to welcome three world-class athletes who are featured in films we're screening this year to our community." – Melinda Booth, Executive Director South Yuba River Citizens League.
CLIF BAR Presents: Conversation with Professional Climber Tommy Caldwell
We are excited to announce that CLIF Athlete and Professional Climber Tommy Caldwell will be at the Gold Crush Climbing Gym in Grass Valley for a climbing session during the 17th Annual Wild & Scenic Film Festival! This is an incredible opportunity for experienced climbers to learn from one of the world's best climbers. Or perhaps you simply want to hang out and learn what motivates Tommy to pursue some of the world's toughest climbs. Tommy and his climbing partner were the first to successfully ascend the Dawn Wall on El Capitan, heralded as the hardest free climb in the sport. No kidding. Tommy Caldwell is coming to town!
WHEN: Saturday, January 19
TIME: noon – 2pm
WHERE: Gold Crush Climbing Gym, 124 Clydesdale Ct, Suite D, Grass Valley
TICKETS: Free Entrance. Climbing shoe rental $5. First come first serve. Maximum Occupancy 40 people.
Difficult journeys teach us the most
Meet Climber Tommy Caldwell at Wild & Scenic!
About Tommy
Tommy's dad taught him to embrace fear and doubt and turn them into inspiration. Given this attitude, Tommy has established some of the hardest routes in the country and free climbed 12 routes on El Capitan in Yosemite. He believes difficult journeys, with little chance for success, teach him the most.
On January 14, 2015, Tommy Caldwell, along with his partner, Kevin Jorgeson, summited what is widely regarded as the hardest climb in history—Yosemite's nearly vertical 3,000-foot Dawn Wall, after nineteen days on the route. Caldwell's odds-defying feat was the culmination of an entire lifetime of pushing himself to his limits as an athlete.
His memoir, The Push, chronicles the journey of a boy with a fanatical mountain-guide father who was determined to instill toughness in his son to a teen whose obsessive nature drove him to the top of the sport-climbing circuit. Caldwell's affinity for adventure then led him to the vertigo-inducing and little understood world of big wall free climbing. But his evolution as a climber was not without challenges; in his early twenties, he was held hostage by militants in a harrowing ordeal in the mountains of Kyrgyzstan. Soon after, he lost his left index finger in an accident. Later his wife, and main climbing partner, left him. Caldwell emerged from these hardships with a renewed sense of purpose and determination. He set his sights on free climbing El Capitan's biggest, steepest, blankest face—the Dawn Wall. This epic assault took more than seven years, during which time Caldwell redefined the sport, found love again, and became a father.
Ready for Adventure? Watch The Dawn Wall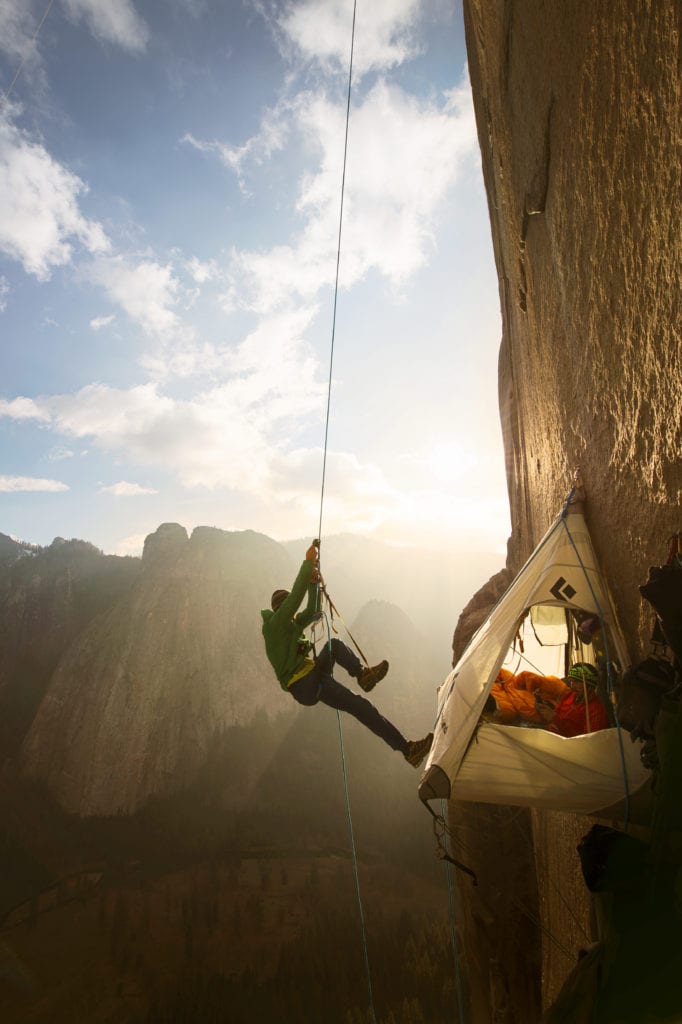 The Dawn Wall
Josh Lowell, Peter Mortimer, Tommy Caldwell, Kevin Jorgeson | 2018 | 100 min.
2019 Official Selection
In January 2015, American rock climbers Tommy Caldwell and Kevin Jorgeson captivated the world with their effort to climb the Dawn Wall, a seemingly impossible 3,000 foot rock face in Yosemite National Park, California. The pair lived on the sheer vertical cliff for weeks, igniting a frenzy of global media attention. But for Tommy Caldwell, the Dawn Wall was much more than just a climb. It was the culmination of a lifetime defined by overcoming obstacles. Blurring the line between dedication and obsession, Caldwell and his partner Jorgeson spend six years meticulously plotting and practicing their route. On the final attempt, with the world watching, Caldwell is faced with a moment of truth. Should he abandon his partner to fulfill his ultimate dream, or risk his own success for the sake of their friendship?
Climber Tommy Caldwell will be IN PERSON at this year's Wild and Scenic Film Festival!
You can catch Tommy during a special climbing and bouldering excursion Saturday morning, at the Media Lounge for an exclusive interview with Elisa Parker and book signing at the Nevada City Winery from 3 to 5 pm and for a Q & A after the screening of his film, The Dawn Wall on Saturday night followed by the Wild & Scenic Gala! Stay tuned for updates to our online Schedule.
CLIF BAR and Teton Gravity Research Presents: A Fireside Chat with Professional Snowboarder Jeremy Jones And His Film, Ode To Muir
Join Jeremy Jones, professional snowboarder, adventurer and founder of Protect Our Winters as he tells stories from his latest adventure and conservation film, Ode To Muir. This film pairs Jeremy with two-time Olympian Elena Hight as they embark on a 40-mile foot-powered expedition deep into California's John Muir Wilderness.  Steve Jones, Producer and Co-Founder of Teton Gravity Research, will facilitate the discussion with Jeremy.
WHEN: Sunday, January 20, 1:30pm-2:30pm
WHERE: Golden Era, 309 Broad St, Nevada City
First come first serve, as space allows
"The most important film I've ever made."
Meet Snowboarder Jeremy Jones
About Jeremy
"Snowboarding gives me wings and it is my art. On the really special runs I feel like I am flying and is my portal to another world," said Jeremy Jones, the celebrated professional freeride snowboarder of Jones Snowboards.
Jeremy Jones grew up in the New England area riding in the northeast, but he considers Squaw Valley his home mountain. He trained in Maine and turned professional in 1991, going on to race for many years. As an award-winning filmmaker, entrepreneur, environmentalist and snowboarding pioneer, Jeremy Jones is widely regarded as one of the most accomplished big mountain riders and explorers of all time. Named a 2013 National Geographic "Adventurer of the Year" and eleven times voted "Best Big Mountain Rider of the Year" by Snowboarder Magazine, Jeremy has starred in over fifty snowboard movies worldwide. He is the founder and CEO of award-winning Jones Snowboards.
Jones calls Ode to Muir "unquestionably the most important film I've ever made."
In 2007 Jeremy founded Protect Our Winters, a global cause uniting the winter sports community against climate change and was recognized in 2013 as a Champion of Change by President Barack Obama. Jeremy has appeared frequently in worldwide media including 60 Minutes Sports, ABC's Nightline News, The Wall Street Journal, The New York Times, Outside Magazine and TV, Men's Journal, Esquire, CNN, MTV, ESPN, Fox News, NBC and National Geographic. Jones currently resides in Truckee, CA, with his wife and daughter.
Ode to Muir
Teton Gravity Research, Elena Hight, Jeremy Jones | 2018 | 63 min.
2019 Official Selection
Teton Gravity's newest film Ode To Muir pairs professional snowboarder, adventurer and founder of Protect Our Winters Jeremy Jones with two-time Olympian Elena Hight as they embark on a 40-mile foot-powered expedition deep into California's John Muir Wilderness. Their journey balances the challenges of winter camping, grueling climbs up the Sierra's biggest mountains, and aesthetic first descents with personal reflections on the importance of the natural world and those who first traveled it generations ago, and sharing perspectives gleaned from what it truly means to explore a great American Wilderness.
Be sure to show up early for the screening of this incredible film! Saturday's mid-day screening at the Nevada Theatre features Sierra Nevada Brewing Company beer, CLIF BAR, and a Raffles with Jones Snowboard, Peak Design Bag, and other sweet gear!
See SCHED for details
Boarder Jeremy Jones will be IN PERSON at this year's Wild and Scenic Film Festival on Sunday!
You can catch Jeremy at an exclusive interview with brother Steven (the siblings founded Teton Gravity Research) in the Media Lounge with Elisa Parker from 11 am to noon Sunday and at a Fireside in the afternoon. This is your chance to connect with one of the best professional free-ride snowboarders in the galaxy!
CLIF BAR Presents: Beyond Boarding – A grassroots collective of snowboarders and surfers dedicated to radical activism!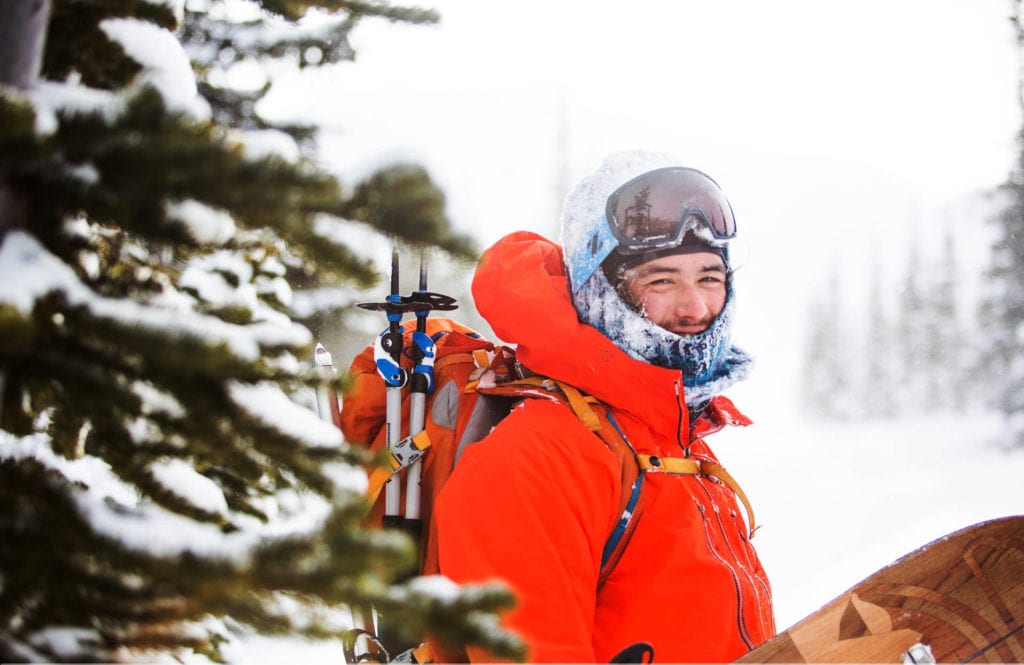 Tamo Campos is a film maker, professional snowboarder and organizer. He also happens to be the grandson of world renowned environmentalist Dr. David Suzuki. In 2017 he was named Canada's top environmental activist under 25.
Campos' multi-media presentation will focus on lessons learned in over eight years of grassroots activism with Beyond Boarding. Powered by trucks fueled with waste vegetable oil, Beyond Boarding is an innovative and creative collective in the North West. The project ranges from film and youth programs to direct action with a dedication to outdoor culture, environmental education and social justice. With a unique story of how a passion for the outdoors morphed into a mission for environmental justice, Campos will share a mixture of highlights and campaigns. From riding first descents in Alaska, occupying fish farms with indigenous land defenders to defending the Sacred Headwaters, Campos will showcase the power of film, storytelling and activism while highlighting the importance of youth and community.
WHAT: Free! Workshop "Beyond Boarding: A grassroots collective of snowboards and surfers dedicated to radical activism!" 
SPEAKER: Tamo Campos, Director of The Radicals 
WHEN: Sunday Jan. 20,  4:00pm – 5:00pm 
WHERE: City Hall, 317 W Broad St, Nevada City
Read Wild & Scenic's exclusive interview with Tamo! 
Check out the film, The Radicals.